Shipping Info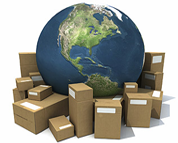 With our network of reliable sources, carriers and couriers, Resistaloy Provides :

Next Day Service to Ontario and the Maritime provinces. Two to four day service to the rest of Canada.

Resistaloy, in addition to making regularly deliveries on time from our vast central warehouse based in Montreal, maintains an extensive network of suppliers and manufactures based in Toronto, Edmonton, Vancouver, and the U.S.A. This provides us with the ability to drop ship directly to our customers throughout Canada, saving them both time and costs.